Okay, this was a little difficult. I don't know if there is an easier way to do the giveaways. I made a monster excell chart to make sure everyone got the right amount of entries. Thanks to everyone who made a comment, thanks for all the blog posts, this giveaway was a huge success. And thanks to all our new followers. We think you will like it here!
Thanks so much to Sara at the super cute
Ladybug Quilt Shop
. Make sure to continue to stop by her shop when you are craving some darling fabrics...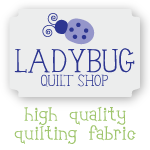 The winners of one of the fat quarter bundles from Random.org ended up being (insert drumroll)
Trisha

said...I love the Hooty HOot Kangaroo line by Riley Blake. I am trying to figure out what I could make with.
and
onlymehere

said...
Oh my gosh love the fabrics! The mint is too darn adorable. I'm going to have to hop over there on payday and get some owl prints for my daughter!
Thanks again for everyone for all the comments and support of Sara and her Ladybug quilt shop.
Now onto the Friday Quiltstory. Charity just started a new blog
ahandleonit.blogspot.com
, now take a moment to go over to her blog and give her some comments. You all remember starting your blog and wondering when anyone would ever comment besides your loyal mom or sister. Go on and show the love. This is a sweet story you will want to read...
On any given day I hold many different titles, wife, mother, college student, gardener, and occasionally quilter. In May of this year my college classes were coming to a close for the session. I was ready to dive into a project, when the June issue of American Patchwork and Quilting arrived. I was hooked and couldn't help but get started. Mine looks a bit different from the cover picture, as most of my quilts are leftover pieces. I don't know the names of the fabric or even if what I used has a name. I went with what I liked and tried to work it all together. The finished quilt measures approxamately 66" X 88".
As the summer progressed and I worked through the heat to accomplish all of the handstiching, I wondered where this quilt would go. Normally each of my quilts are made with a specific person in mind. This time it was just a creative adventure for me. Time revealed whom this was to be made for. As I worked on, my son was a awarded a grant from the Central Pa Down Syndrome Awareness Group. http://cpadsag.org/ They opened possibilities in communication for him in ways that we just couldn't have done on our own. My heart swelled with appreciation that I decided this quilt should go to them. At the 3rd annual Buddy walk September 18, 2010 this quilt will be part of the silent auction. I hope that it will bring help to the group, so that others can receive the blessing that our family did. I also wish that the quilt provides warmth and comfort to someone who needs it.
Thanks Charity, this was such a good cause and beautiful quilt. Check out the amazing handstitching! Make sure to go give Charity a good welcome on
her
blog
!