First, congrats to Madame Samm of Sew I Quilt for her 2nd place quilt win through Moda/Schnibbles
Martingale Contest!! It is an amazing quilt, she definitely deserves to be one of the winners. And lucky us, today we get to see and read more about this oh so pretty quilt. Also, make sure you stop by Sew I Quilt, and check out some of her great projects on
flickr
.
I just won today
(Wednesday)
the Moda/Schnibbles contest, came in 2nd overall~! This was my very first quilt, and my very first win. I chose Carrie Nelson's Hot Cross for a variety of reasons. I love them, they symbolize for me Christmas and they would go very well with 12 days of Christmas Fabric by Kate Spain. I added the lyrics of Let it Snow all around the quilt which I called the same. I added black patent leather buttons to represent raisins on the buns and to me it screams HOLIDAYS.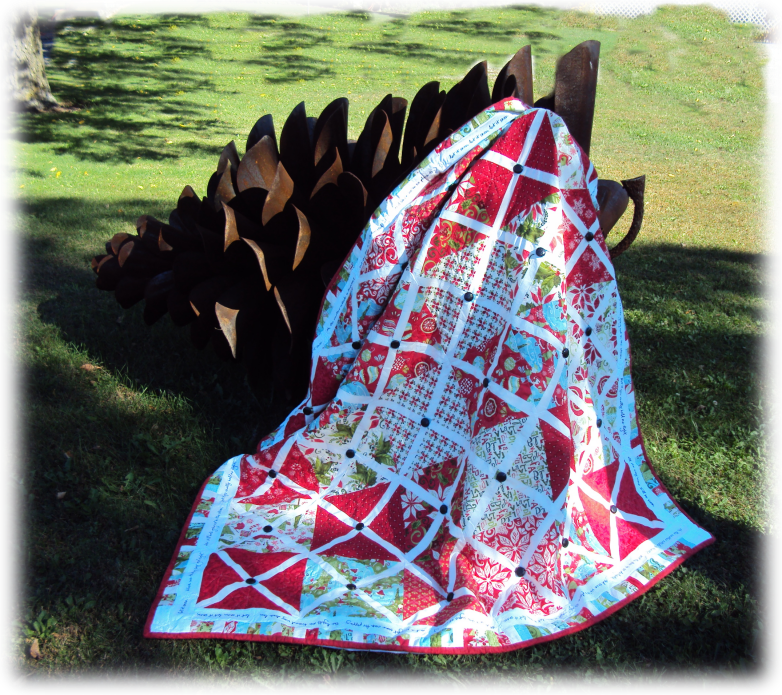 I have already been approached for patterns and a book...I think some are possibly over the top excited, but really no match to the excitement of feeling like I sew belong to the Quilt World. My passion has been decades of sewing creatively in vintage design, home decor and a home wear line...'cause home is where you where them... I began as a doll maker and soon was sew inspired each time I placed orders for quilting fabric that I thought why not venture in the unknown , I am a quick learn...
Sew here I am, now on my 3rd design, I hand quilt each of my quilts and even have time to make
halloween towels, runners and purses..
blessings madame samm
http://sewdollswhosnext.blogspot.com